May 08, 2023
Categories:
Technology Trends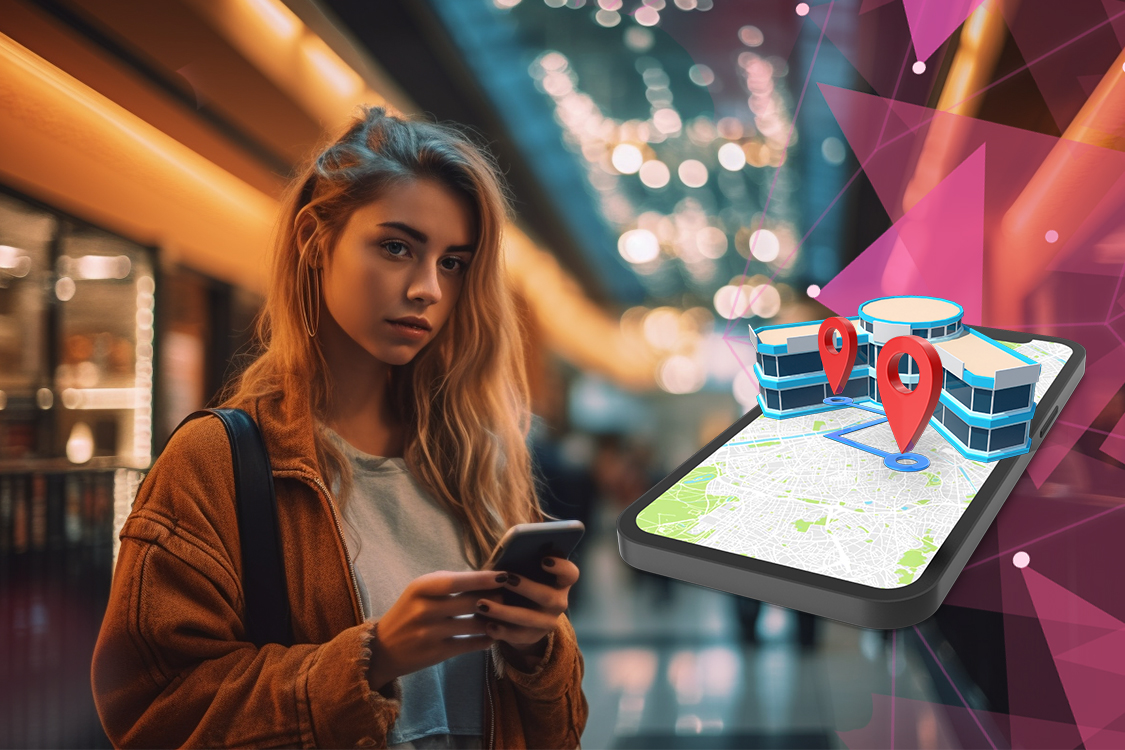 In the last decade alone, the world has grown by leaps and bounds technologically. Although it can be overwhelming at times, this smart technology allows us to do things we wouldn't have been able to do without it. Such is the case with blue-dot navigation.
How Most Location-Based Blue-Dot Systems Work
When it comes to indoor location-based blue-dot technology, systems traditionally consist of a mobile device, sensors, and a software platform and are dependent on additional external hardware. A user's smartphone uses sensors to pick up location using GPS, Wi-Fi, Bluetooth, and cell signals. But since these aren't enough to find a user in a building, the system also relies on extra sensors such as beacons and magnetic fields located throughout the building. Once someone using the system enters a building, the system finds their location using those sensors to display a map of the building on the person's cell phone. At this point, the user can select their desired location and the system will provide turn-by-turn directions to where they want to go.
But these systems are hardware-heavy and require expensive external hardware, costly maintenance, and are not easily scalable.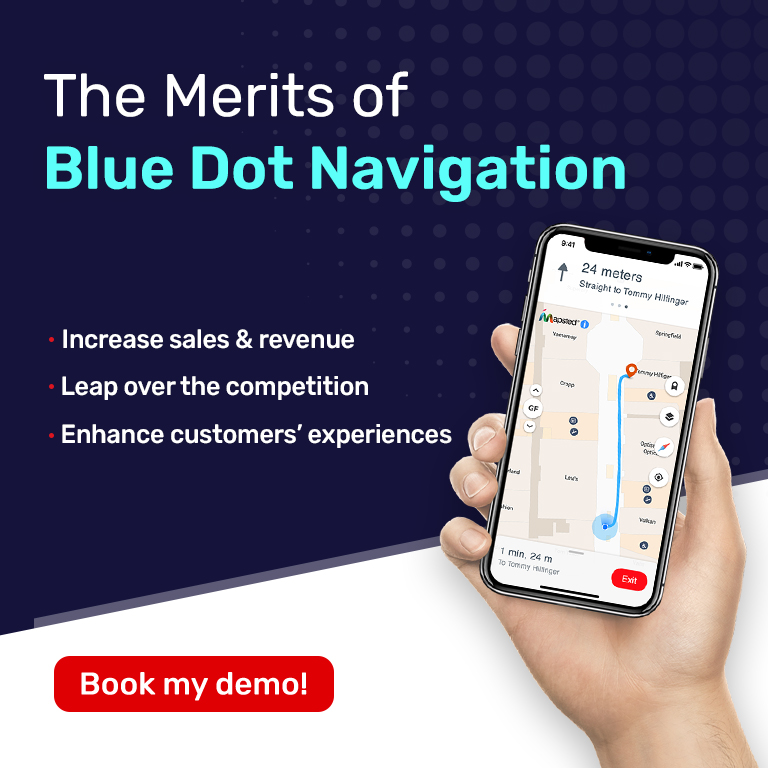 Mapsted's Blue-Dot Navigation System is Different from the Rest
Trailblazing location-based technology such as Mapsted, however, uses a hardware-free approach that has changed the location technology landscape forever. The revolutionary platform uses more than 50 data points, a sophisticated algorithm, AI, and machine learning to provide positioning technology accurate to 1 meter without the need for beacons, external Wi-Fi, or additional external hardware, featuring horizontal and vertical positioning, as well as multi-building positioning. Furthermore, Mapsted offers more than intelligent navigation. With its full suite of location-based products, Mapsted clients can engage their customers and also see how they interact with spaces.
Benefits of Mapsted's indoor navigation include:
All-in-one IPS. Technical limitations of other indoor navigation systems can't compare to what Mapsted's can deliver – a highly accurate, stand-alone, one-stop-shop indoor positioning platform.
Eliminate extra costs. Other systems require expensive external hardware and costly maintenance, while Mapsted's doesn't.
No external hardware. Mapsted's technology pulls from a large variety of data sources creating a powerful and accurate indoor positioning system.
What Can Blue Dot Navigation Do for You?
Let's delve into why you would want blue-dot navigation:
Enhance your customers' experiences. With blue-dot navigation, you can provide your customers with location-based information and services that are precise. For example, clothing shops can use this navigation to help eager shoppers find their way to their location, while businesses like restaurants can do the same for those who are just plain hungry.
Heighten productivity. When you provide real-time location-based technology via the blue dot on your property, it can help you to increase productivity. For example, employees, outside contractors, guests, and technicians can navigate your property easily and efficiently.
Increase safety and security. Blue-dot navigation can be used to improve safety and security by helping visitors quickly locate emergency exits, first aid stations, or security personnel. It can also be used to monitor employee movements and ensure compliance with safety regulations.
Increased sales. Blue dots can guide your customers to specific products or promotions. You can provide customized recommendations based on a customer's location and browsing history which can improve cross-selling and upselling.
Get a competitive advantage. With blue dot, you can differentiate yourself from your competitors and offer a unique value proposition to your customers. This can help attract new shoppers or clients while retaining existing ones.
Multi-functional. Blue-dot navigation can be integrated with a number of features such as location-based advertising, geofencing, and asset tracking, making it a versatile and useful tool for businesses across a wide range of industries.
Before You Make Your Decision
Prior to making a decision about a Blue Dot navigation system, business owners should consider the following:
Cost. A blue-dot navigation system can be expensive, particularly if it requires custom development or integration with existing systems. Businesses should carefully consider the costs involved and whether the benefits of the system outweigh the investment. However, with the Mapsted system, there is no external hardware to install or maintain.
Ease of use. The system is tied to the user experience. Make sure the system is easy to use or customers may be less likely to utilize the service.
Data privacy. Businesses must comply with applicable data privacy regulations and have robust data security measures in place to protect user data since the system relies on collecting and processing user data to determine location.
Support and maintenance. Make sure your provider updates the system regularly and provides you with timely support should you encounter an issue.
Accuracy. Make sure to choose a system where user data accuracy is not compromised by Wi-Fi, Bluetooth, and GPS signals.
The Bottom Line
Blue-dot indoor navigation provides an efficient and convenient means for users to get around complex indoor spaces such as airports, malls, stadiums, universities, transport hubs, hospitals, and trade center spaces without having to ask for directions or using paper maps.
Blue-dot navigation can help businesses to improve operations, enhance the experiences of customers, increase productivity, and drive revenue growth.
Mapsted's hardware-free indoor navigation system has a one-meter blue-dot accuracy with millisecond processing speeds There is no better navigation system on the market. If you would like to learn more about Mapsted's blue-dot navigation system, check out our blog on The Future of Indoor Mapping in Hospitals and our short video on how blue-dot navigation can help hospitals.
Frequently Asked Questions
Q1. Can blue-dot navigation help my business?
Ans. Blue-doot navigation can be a valuable tool for businesses looking to improve their operations, enhance the customer experience, and gather valuable data.
Q2. What are the advantages of blue-dot navigation?
Ans. Blue-dot navigation can provide improved logistics and delivery options, enhance customers' experiences, provide valuable data insights, give a business a competitive advantage, and can be integrated with a variety of other features.
Q3. What should I consider before deciding to implement blue-dot navigation?
Ans. Consideration should be given to data privacy, user adoption, technical requirements, costs, and potential risks. You can ensure this technology aligns with your business goals and values by speaking to Mapsted.
Q4. How can blue-dot navigation increase my revenue?
Ans. Blue-dot navigation can increase revenue by improving user experience, providing targeted advertising, increasing foot traffic, and providing valuable insights and analytics.
Q5. Why is Mapsted the best choice for blue-dot navigation?
Ans. Mapsted's sophisticated algorithm uses AI and machine learning to provide properties with accurate positioning technology without beacons, Wi-Fi, or additional external hardware.